Sep 17, 2014 / 11:20
School principals reluctant to make IT a compulsory subject
Educators have suggested that informatics be added to the list of compulsory subjects at schools but principals are opposed to the idea.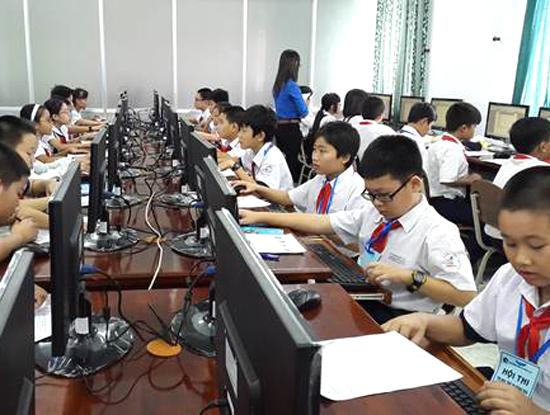 Lam Trong Trinh, the head of the Informatics Division of the Ba Ria-Vung Tau Province's Education and Training Department, said that informatics had been seen only as an optional subject.
"Students only have one or two informatics lessons a week as an optional subject. Therefore, students never pay appropriate attention to it. But informatics plays a very important role in human life in the 21st century," he noted.
A national informatics competition for general school students is held every year. However, the students attend the competitions with the knowledge they obtain on their own rather than from school lessons.
The Ministry of Education and Training (MOET) is not responsible for determining how many informatics lessons should be provided during a school year and when students should begin learning informatics at school. Instead, the schools themselves decide when and how to teach the subject.
At some primary schools, informatics is taught to first graders, while at other schools, students begin learning informatics when they enter the third grade.
Meanwhile, at secondary school, informatics, just like knitting, embroidery and sewing, is one choice in the vocational training program.
Nguyen Trong Duong, head of the Ministry of Information and Communications' Information Technology Department, also thinks that it is necessary to put informatics into a higher position in the general education curriculum.
"It is unreasonable that informatics is just considered an auxiliary learning subject at general school, while information technology applications can be seen in every corner of our life," Duong noted.
However, many educators do not agree with MIC or the information technology firms, which have urged the government to apply "smart education" in Vietnam.
The headmaster of a primary school in Hanoi noted that the top priority is to ease the homework and lesson overload on students. If informatics turns into a compulsory subject, the pressure on students will be even worse.
Nguyen Thi Tuyet Nga, headmaster at the An Duong Primary School in Hanoi, also thinks it would be better not to require students to learn informatics id the facilities at schools are not good enough to ensure the effectiveness of lessons.
Nga said while she is aware of the importance of teaching IT at school, she cannot think of teaching it right now.
"We have been practicing thrift over many years to get money to equip every classroom with an overhead projector. Meanwhile, we have only one smart board for the whole school. All the teaching aids are very expensive," she said.
Ngo Thi Lien, headmaster of the Quang Lich Secondary School in Thai Binh Province, said there were 15-20 computers at the school for IT lessons, which, in theory, would be enough for two students each. However, the computer quality is "problematic", so students lack a sufficient number of machines.