Oct 10, 2014 / 14:09
Mobile subscribers annoyed by networks' do-nothing attitude about spam
Mobile subscribers complain that the telecommunication services in Vietnam have become unbearably inconvenient: they are bothered every day with spam messages, are being swindled out of money, and are increasingly annoyed with mobile network operators' attitudes.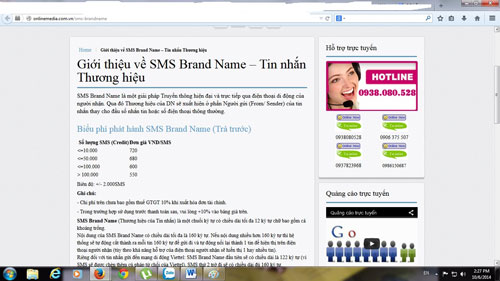 "There are so many spam messages nowadays. I won't believe those who say they don't receive spam messages every day," said TQ, a customer of VinaPhone.
The latest monthly survey conducted by BKAV, the leading cyber-security firm in Vietnam, showed that the number of spam messages is on the rise. Every subscriber receives one spam message every three days on average, while big sufferers get two spam messages a day.
While spam messages make subscribers upset, they make mobile network operators happy, because they can pocket big money from the messaging.
BKAV said 9.8 million spam messages are sent to subscribers in Vietnam every day. If noting that mobile network operators can pocket VND300 for every message, the total sum of money they can earn from the spam messages is VND100 billion a month.
According to Vu Ngoc Son, vice president of BKAV, if spam messages are sent from normal subscribers, telcos will be able to charge the messages, and if users send messages to service operators such as 7xx and 8xx, telcos will pocket 40-50 percent of the revenue of VND15,000 for every message.
The huge profit explains why mobile network operators do not want to stop spam messages.
"Technically, mobile network operators absolutely can prevent spam messages from being spread. However, they don't want to do this because this will lessen their revenue," said Son of BKAV.
Meanwhile, many subscribers said they feel as if they were being swindled by mobile network operators.
NTN, a Viettel subscriber in district 4, HCM City, said though she is a loyal client of the network, she does not receive respect from the service provider.
"Viettel on its own activated the Imusik ringback service, turning me into an unwilling service user," she said.
"In principle, if clients want to use services, they will register the services with the service providers. Viettel provided services without my agreement," she said.
When asked about the Imusik service, an executive of Viettel explained that Viettel's subscribers can use the service for free for one month.
If they don't want to continue using the service after one month, they can send messages to Viettel to stop the service use.
In reply, N said it was illegal to install services on others' phones without their permission.
"I don't intend to spend my time sending messages to mobile network operators. What will happen if I have to refuse to do this every day?" she said.
Nguyen Anh Tuan, an office worker in Hanoi, noted that there were numerous tricks mobile network operators can play to entice subscribers to the services installed on sim cards.
"The services are useless for me. I don't need the information about lottery results, football matches, funny stories or games," Tuan said. "The mobile network operators force people to use their services and force them to pay for the services."