Sep 19, 2014 / 15:09
Schools replace out-of-date textbooks with their own versions
Most schools in HCM City teach students according to schoolbooks they compile themselves, as the information in textbooks from the Ministry of Education and Training (MOET) is out of date.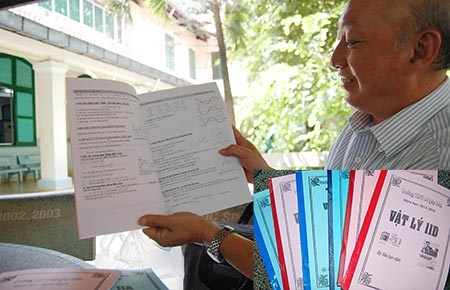 Nguyen Duy Hieu, a math teacher at the Le Hong Phong High School for the Gifted, said the school was planning to compile a set of books for school use.
He said the board of management has called on experienced teachers to join the compilation team, and they will begin work as soon as MOET releases the document on new curricula.
When asked why does the school need to compile textbooks, Hieu said that lessons in the MOET-compiled textbooks do not fit the qualification level of the school's students.
For many years, math teachers at the school have been teaching their students in accordance with lesson plans they prepare themselves. This has also been followed by the teachers of other subjects.
"MOET's textbooks provide academic knowledge, while there are not suitable questions to prepare students for the university entrance exams," he said.
"If students learn the lessons in the textbooks and only do the exercises given, they would only be able to pass the high school finals, and would be confused about questions on the university entrance exams," he explained.
Hieu and other teachers believe that it is necessary to familiarize students with many different math questions so they can do well on university entrance exams.
An official of the HCM City Education and Training Department said Le Hong Phong is not alone. Le Quy Don, Vo Thi Sau and other schools have also been following their own schoolbooks in teaching. Some of them have been doing this since 2006, when the latest versions of textbooks from MOET came out.
In principle, MOET textbooks are official textbooks which must be used at all general schools in Vietnamese territories.
Dong Van Ninh, a physics teacher at Le Quy Do High School, admitted that textbooks compiled by the school's teachers have been used in teaching and learning at the school since 2006.
"My students complained that the knowledge in the official textbooks is too academic, which is difficult to understand. Therefore, we decided to write news textbooks to help students better acquire knowledge," he explained.
"After a lot of editing, we have the physics textbooks for 10th, 11th and 12th graders, of course, for internal use only," he said.
Hieu from Le Hong Phong High School said that it was acceptable for schools to compile textbooks of their own for their reference.
"The existence of many textbooks gives many choices to students and teachers, while students can have different approaches to learning subjects," he said.
Hieu praised the Prime Minister's new decision on "a single curriculum, many textbooks". Under this policy, the MOET curriculum will be the only legal one in Vietnam, but there will be many textbooks for it.